Fragrance Free
100% natural deeply nourishing organic oils

save time and money
Just Balm Light Superbalm
Simplify your skincare routine, no more purchasing separate products for each skincare concern, a multi-purpose product can address multiple issues in one step, reducing the number of products you need to buy and apply saving you time and money.
Just Balm Light - Multipurpose Superbalm
Regular price

Sale price

€29,95
Fragrance free, 100% natural deeply nourishing organic oils blended for intense skin moisturising. For head to toe use on all ages, face, hands and body.
Organic

All of our products are made from organic natural oils, free from synthetic chemicals, fragrances, preservatives, and other harsh ingredients that can be found in conventional skincare products so they are suitable for use on all skins and all ages from head to toe.
Reduce

Using a multi-purpose product is the best way to reduce pollution and conserve resources, that is why we endorse the use of one main multi-purpose skincare product.
Recycle

Reducing the number of products you use and the waste you generate together with recycling your containers conserves resources, reduces pollution, and saves energy.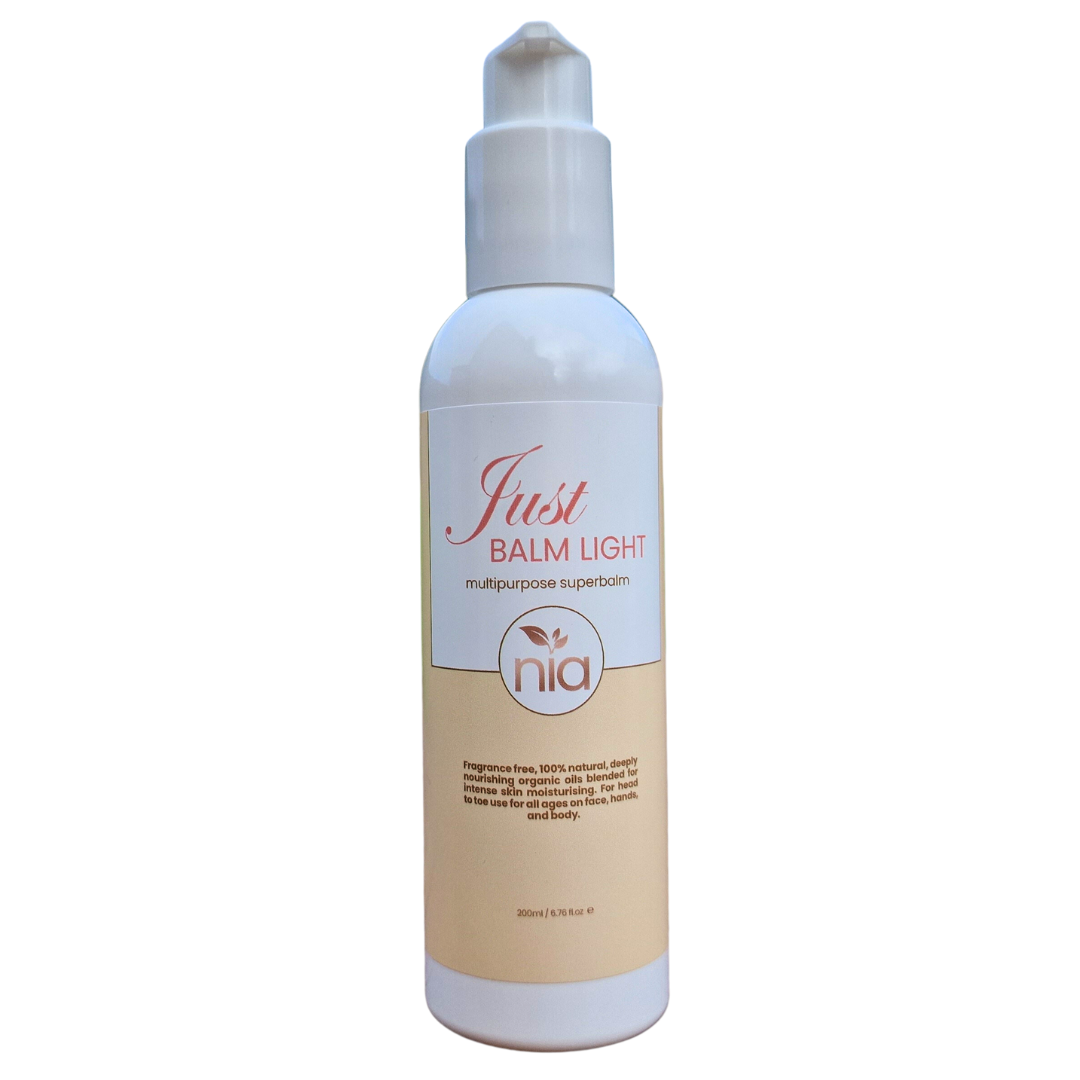 Customer Success Stories



Nia Natural Beauty delivers the highest quality organic and natural skincare products. They are premium standards and feel amazing on the skin. I have been
a customer for a number of months now and I love using it. 

Ruby O Connell
I have been using Nia Natural Beauty moisturizer for the past few
months and I absolutely love it! Non greasy and feel like my skin is very
happy! I will never use another moisturizer again.

@thetweetinggoddess
I've been using the Vitality Super Vitamin Home facial kit for a while now and find it excellent. My dry, sensitive skin gets dull so quickly, but using this once a week keeps the glow and my face feel so soft and nourished afterwards. I also liked that the kit came with everything, including the soft face cloths and brush. It makes it feel more like a treat for myself as well as my skin.

@mrssmartmoneyhq
"I can say, very honestly, that this is one of my favorite skincare
collaborations. I've long been an advocate of natural skincare & being dermo cosmetic trained, I know my skincare & its ingredients! Since using
NIA over the last 3 weeks, there is a marked improvement in my skin. I've always taken great care but the bounce & vitality & glow is amazing,
I'm hooked on Orange blossom & Calendula cleansing balm paired with Vitality Super Cream. Love it"

@sometimesjenny_
"I'm so glad to have finally found natural vegan skincare which keeps my skin feeling healthy and hydrated"

@Bribblogs