Just Balm Light - Multipurpose Superbalm
Regular price

Sale price

€29,95
Fragrance free, 100% natural deeply nourishing organic oils blended for intense skin moisturising. For head to toe use on all ages, face, hands and body.
Benefits
More product information
How to Use
Ingredients
Shipping

Delivery from 5-10 days once product is in stock.

Shipping in Ireland costs €5.95 on orders up to €50. Shipping is €2.95 on orders from €50 to €100. Free delivery on orders over €100.

Shipping charge added at checkout.
Weight
Share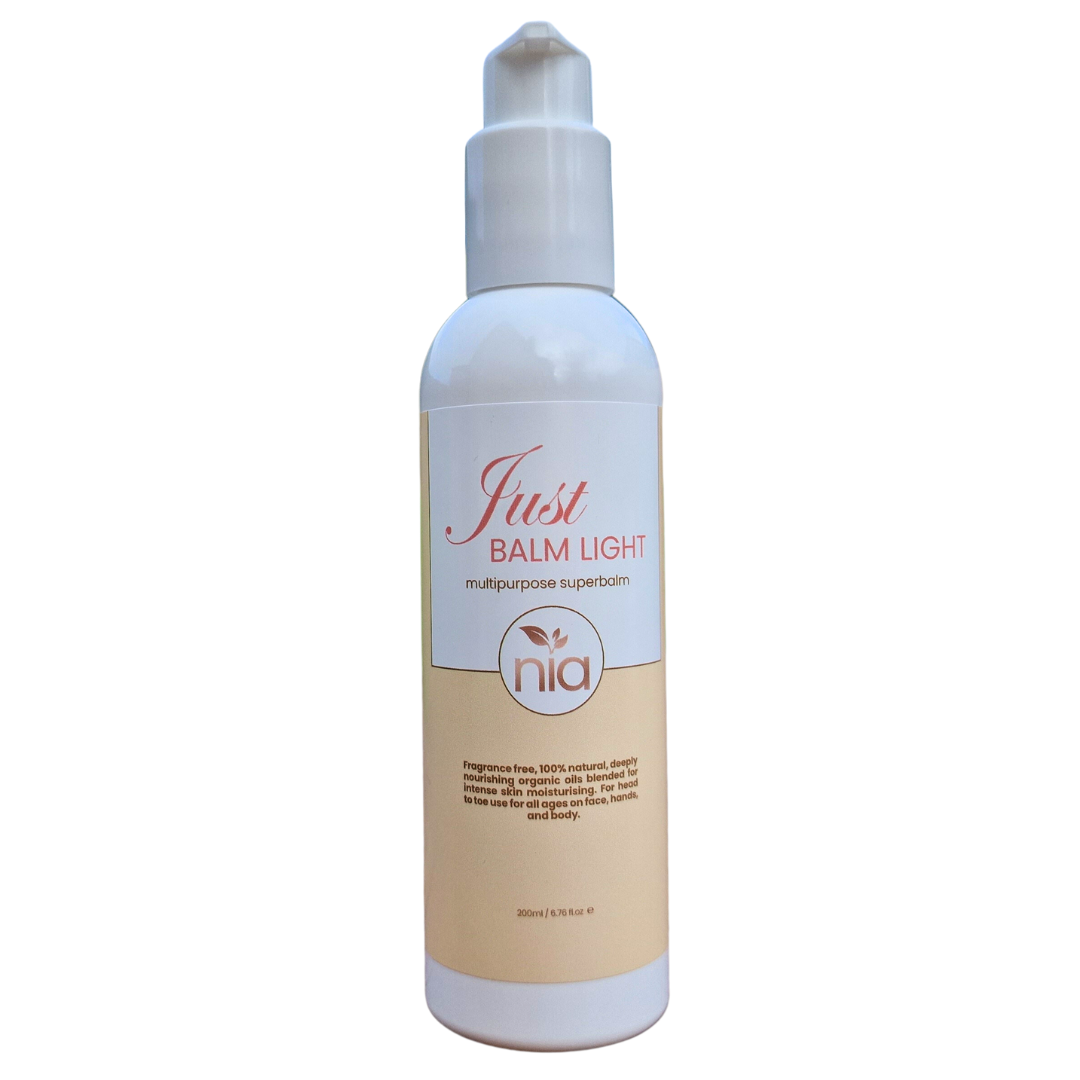 Just balm light
A beautiful light textured product. A little goes a very long way. No waste. Very gentle. Love all these products
Just Balm Light
I purchased 2 x 200ml bottles of the Just Balm Light before holiday's this year. We had always been huge fans of the "Old" Just Balm in our house, I could not keep it stocked up, but this is as good, if not better. It was used as a hair conditioner (curls love it), a body moisturiser and an after-sun (it is excellent for sunburn). It works a treat on Eczema prone skin too and absorbs really quickly. All 5 of us were using it and I will have to place an order again soon. Love it! 💙
Very oily product. Can't wear this during the day . I use it at night for a mask
Just Balm
I really do regret to say that both my husband and I are unhappy with the new Just Balm. My husband only used it once, as he felt the balm felt greasy on the skin and never sank in at all. I gladly took it from him and unfortunately I had to agree with him. It's impossible for me to use as a daily moisturizer on my face as my face felt greasy and looked shiny all day long. I am using it up on the only dry skin area on my body - my ankles and lower legs, and it does the job here. I had great expectations for this product so I am disappointed. I too would love to be able to use the balm in the tin again. Alas I believe it won't be coming back...
I'm sorry to hear that you are disappointed Vera. The new Just Balm is actually not as greasy as the original one and in fact is made with oils that will soak in to the deeper layers of skin easier. If I may give you a recommendation, as it sounds like your skin is too dehydrated to take in what it needs. You see, what happens when the skin becomes very dehydrated is that it creates a barrier so that even though it needs moisturising, it is trying to protect itself from further drying out so it creates an invisible layer on top and everything will sit on the surface and not soak in. This barrier is created as a defence mechanism so what I recommend is to use the balm on wet or very damp skin which will lighten the texture and let the skin be able to take it in better until the health and texture of the skin improves. Sounds strange but when the skin becomes dry or dehydrated, its kind of like a sick tummy, you must start off gently with light bites first and as the condition improves, it will be able to take in more. I recommend to use the balm on wet skin for at least 10 days to get you on the road to recovery. So use the balm on wet skin after your shower on your body. For the face, run your fingers under the water and dampen the skin on the face, then add a pump of the balm over that and rub the whole lot in. It will lock in the moisture you need.
This often happens on the feet, elbows, upper arms, heels and knees too, so be patient with the process but once the condition of the skin improves, you can apply the product neat as needed.
I hope this helps :)
I love it . Just as it says its light but melts into the skin
FAQs
Shipping

Delivery is 5 - 10 days once item is in stock.
Organic

All of the ingredients we use are plant-based, 100% natural and sourced from 100% sustainable organic farming.
Cruelty Free

All of our products are made cruelty free meaning that none of our ingredients are tested on animals and none of our finished products are tested on animals.
Recyclable

All of the containers are recyclable. Please recycle responsibly.
Customer Success Stories
Just really lovely products. Thank you

Blathnaid Kelly
Amazing moisturiser for super sensitive skin

Fiona Hannon
An amazing product. Has so many uses for dry and itchy skin. Love this product so much

Patsy Farrell
Great product. I am delighted with it, my skin is less dry and less sensitive since i started using this :)

Starbar
So soft afterwards - definitely recommend it!

Noelle